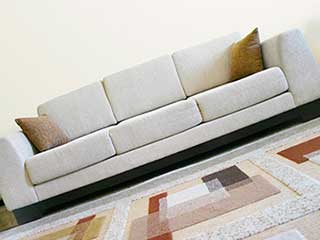 Going by the name of our company, one could be driven to think that all we do is clean sofas. While it is our main service, we also offer to clean rugs, curtains, carpets and upholstered furniture, as well as mattresses.
We are the best Sofa Cleaners you can come across, with experienced professionals and top-of-the-range equipment to do a tiptop job every single time and for each and every customer. Whether it is a residential job or a business one, we take our work seriously and always do it fast and efficiently. Do not worry that we might not be able to clean your specific type of settee; we proceed to microfiber sofa cleaning as well as couch cleaning. As you can see, our Sofa Cleaning Services are extensive and complete.
We will do the Job for you at an affordable Price
The basic method to clean absorbent material, especially when it comes to upholstery, is to inject water or a cleaning solution into the fabric then suctioning it out. Of course, you might have tried or you might want to try and do it yourself at home but there is a risk that you cannot remove all the moisture from your furniture. That could lead to mildew installing on it and causing further health issues, such as breathing problems. With a professional Sofa cleaning service such as ours, this problem is non-existent because we use very powerful tools to suction out the moisture leaving your furniture dry and clean, and smelling fresh too. Do not take the chance and ruin your expensive sofas; leave it to us and we will do the job for you in no time and at an affordable price.
Different Types of Upholstery
All sofas are not the same; some will be covered in fabric, others will be covered with leather and yet others will be covered in PU. We can achieve a top-notch job on any type of settee, carpet, rug, curtain or mattress, no matter what material they are made up of. While it might be fine to use the power of steam to remove dirt and stains in some cases, in others, it might make the surface too wet and it would take too long to dry. For these types of upholstered or thick material, the carbonating process works better; this is a near-dry solution to clean carpets and rugs especially as well as upholstered furniture. The process uses all natural ingredients and no soap to activate a carbonating reaction that in turn produces millions of micro-bubbles to propel the dirt out of the fibers and bring them to the surface where they are removed. The carpets dry faster than with steam cleaning and stains are a thing of the past.