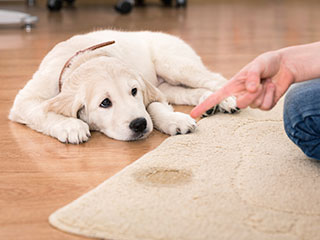 Life is so much better with a four-legged companion who loves you very much. At the same time, keeping pets naturally involves many responsibilities. Dogs, in particular, require potty training when they are young. Both pooches and cats can do their business on the carpet and on a rug when they are ill, scared or upset. The big question is how to remove stains and the accompanying odor too. Here are the essential rules which you must follow.
Detecting the Spoiled Area
You cannot go after your pet all day long so you have to learn how to identify problematic areas. Your sense of smell is the best detection instrument. Watch out for darker areas on the carpet too. If you cannot run a full inspection every day, you should arm yourself with a black light which will reveal all stains left by your pet. It may be shocking, but this is a fundamental step for proper stain and odor removal.
How to Blot Pet Stains Properly
For effective rug or carpet cleaning, you will need to get the maximum possible amount of liquid out in the first place. Place white kitchen paper over the stains. Use five or six sheets at least. The thicker the layer is, the better. It's dangerous to use color paper as the color might leek into the carpet and get you into further trouble. Over the sheets of paper, place an old newspaper. In case you are trying to clean a rug, you should also place kitchen paper and old newspaper underneath it.
Once you've got everything ready, you need to press on top as strongly as possible. You will actually get the best result if you stand on top of the stain. If the liquid soaks into both the paper towels and the newspaper, repeat the blotting procedure once again. It may sound disgusting, but you shouldn't throw the soaked kitchen paper away. Place it where you want your pet to go to do its business. Otherwise, you will find the same area soiled very soon.
Using the Right Products
You should always use a cleaner which is especially designed for pet stain and odor removal. To ensure that it is safe, test it in a small corner of the stain. Wait for the product to take effect and inspect the section for damage. While it may be tempting to use vinegar or baking soda or a combination of both to get rid of pet stains, these only mask the smell.